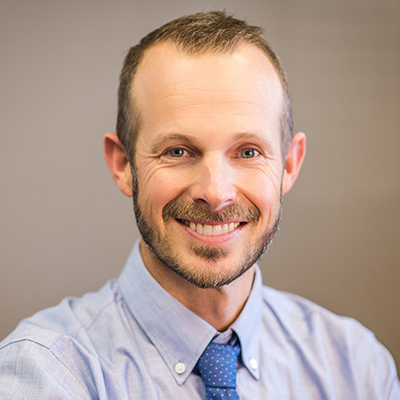 Chiropractor
Bryan Brakhage, D.C.
For many years Dr. Bryan has had a passion for chiropractic; first as a patient and then as a top physician in the field. Dr. Bryan grew up working on his father's farm in Tobias, NE. In his late teens and early twenties, Dr. Bryan worked long hours as an employee on a golf course. Eventually, he relocated to Denver, CO as a golf course manager; working 13-14 hour days, 7 days a week.
In his mid-twenties, his career path changed and he became a managing leader in a large manufacturing company; overseeing the industrial quality assurance department and its many employees.
During high school, Dr. Bryan began having frequent headaches and low back pain due to playing sports and farm work. This continued into his working career. That is when he began chiropractic treatments and when he realized how important chiropractic was. It's so simple. Remove the pressure on a nerve, then the body can restore and regenerate itself; no drugs, no surgery, just remove the interference.
Getting regular adjustments not only helped his headaches and low back pain but also improved his body's immune response; thereby improving his overall health. His previous farm work, sports injuries, manual labor, and long hours as a manager allows him to understand what is necessary to effectively treat chronic conditions associated with hard work and sports.
In 2012, Dr. Bryan decided he was ready to "pay it forward "and serve his community with the gift of chiropractic. He decided to go back to college. In 2017 he received his Bachelor of Science, in Human Biology and a Doctorate of Chiropractic from Cleveland University.
Dr. Bryan was very active in school. During his graduate studies, he was taking the necessary curriculum to complete two degrees. He was also taking additional adjusting courses and attending meetings with Pinnacle, an elite chiropractic group. His education, skills, and additional training has allowed him to be ranked as one of the top 1% of chiropractors nationally.
When Dr. Bryan is not working, he loves being outdoors, golfing, and fishing. He also loves listening to music and motivational podcasts. Chiropractic has given him and his family the ability to enjoy the benefits of a healthy lifestyle.
OFFICE HOURS
---
Monday
2:30pm - 5:30pm
---
Tuesday
2:30pm - 5:30pm

---
Wednesday
2:30pm - 5:30pm

---
Thursday
9:00am - 12:00pm

---
Friday
Closed
---
Saturday
Closed
Chiropractor
Wendy Brakhage, D.C.
There are many things in this life that I love; my family, learning, and helping others improve their quality of life. Therefore, those things occupy the majority of professional and personal time. I travel, study, and am constantly learning how to improve my skills so I can help change lives. I believe my adjusting technique is excellent.
I pay attention to how your body responds. I listen to you, because your comfort level is of utmost importance to me, and make sure you are comfortable communicating with me.
Chiropractic adjustments are gentle, and non-invasive. It can change where your life is headed; getting sicker or getting healthier with improved vitality.
Born in Lincoln, Nebraska, Wendy Brakhage, D.C. has been a licensed Chiropractor since 2000 and practiced in her previous clinic, Plaza Chiropractic, before moving to Kansas City, Kansas and opening Abundant Life Chiropractic in the Piper/Legends area.
---
Education
Undergraduate Studies, University of Nebraska- Lincoln, Biological Sciences
Doctor of Chiropractic, Cleveland Chiropractic College, August 2000
Studying for her Certification in Acupuncture and Chinese Medicine.
---
Current or Previous Memberships
Member of International Chiropractic Pediatric Association
Member of the American Chiropractic Association
Member of the Kansas Chiropractic Association
Studied at The Scoliosis Institute for Corrective Spinal Care 2010
Peer Counselor for Pinnacle Chiropractic Group
Member and Owner of Pinnacle Chiropractic Group
2018 Recipient of Best In Medicine Award, from the American Health Council. Selection for the American Health Council's "Leader in Medicine" award is reserved for those individuals who have exhibited exemplary conduct in their field. These doctors and medical educators serve as the guiding light for advancement from the classroom to the consultation room to the operating room. Leading by example, the difference begins with them. Dr. Brakhage is the only Chiropractor in Kansas to receive this distinguished award.
OFFICE HOURS
---
Monday
9:00am - 12:00pm

---
Tuesday
9:00am - 12:00pm
---
Wednesday
9:00am - 12:00pm
---
Thursday
Closed

---
Friday
Closed
---
Saturday
Closed
OFFICE HOURS
---
Monday
9:00am - 12:00pm
2:30pm - 5:30pm
---
Tuesday
9:00am - 12:00pm
2:30pm - 5:30pm
---
Wednesday
9:00am - 12:00pm
2:30pm - 5:30pm
---
Thursday
9:00am - 12:00pm

---
Friday
Closed
---
Saturday
Closed